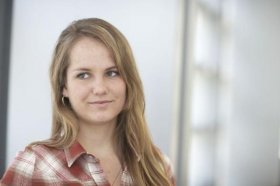 What advice about financial aid do you wish someone had given you/your family when you were in high school?
At the very beginning of my senior year, I started looking at universities and was originally looking at schools which offer merit-based aid because I was intimidated by tuition being so hefty at schools like Columbia. But now, I guess I would say, you never know until you actually look into it. I thought "No no no; it's too expensive!" But my dad said "You never know until you send in paperwork. Don't be afraid to look into something. What are you going to lose? It could be the best decision you ever made." I really thought it was going to be too much. In the end it's pretty incredible! Coming to an Ivy League school was cheaper than going to an in state school for me!
Tell us about your living expenses as a college student in New York City.
Discounts from Columbia really help; coming to New York, you want to go see Broadway shows and the opera. Columbia offers discounts that make it affordable. You think "Oh, I can see that great show for $20; really for going to a show every 3 weeks or so, it's not going to hurt your wallet. I saw Hairspray with the original cast. At the Metropolitan Opera I saw a great Czech opera. I've been to the Museum Met a few times, and the Museum of Natural History, too. But you don't even need to spend money to enjoy yourself in New York! You just get lost in the streets and enjoy yourself for free. No driving or taxi, just get on subway with a friend and see where you end up.
What was your reaction to Columbia's Financial Aid Initiative (no Parent Contribution for families with $60,000 or less in total calculated annual income, with typical assets)?
It took off so much pressure and stress for me and the rest of my family. It wasn't only a dream come true for me, but for my parents too. They emigrated from Poland and they hoped their kids could get a great education. We didn't think this was really possible. We didn't know we could afford a place like Columbia. My parents don't have to contribute anything. It's cheesy, but it really is a dream come true.
What was your reaction to Columbia's Financial Aid Initiative (no loans)?
This had a huge impact on me. I needed everything covered but essentially it's the same as no loan. I have enough stress as it is; knowing I don't have loans to pay back, I don't have to push myself just to get the best paid job after graduation. I can enjoy my time here and that's a huge relief.
What makes a Columbia education valuable to you?
I'd be lying if I said Columbia was piece of cake, or that it was easy and college is all fun and games. I came from small school in a small city. At Columbia you're surrounded by thousands of students; the next one more brilliant than the one you met before. But the people I met are amazing. You don't sleep much because you make a new family here. My floor mates, my tennis team, my professors are my second home. Everybody had a different story so there's always someone new and interesting to go meet. When you stop and look, Columbia opens so many doors for you. I've enjoyed every day.
Tell us about your experiences with the Columbia financial aid staff.
When I knew I was going to be on FA, I thought it was going to be more hectic, more stressful, that I would have to come in constantly and fill out more and more paperwork. I have only come in two times, and everybody is more than willing to help. If you have a problem, they fix it in a heart beat. Kathryn has done her best to limit excess stress to be put on me in my college years. There's always someone available, any question I had was answered immediately, even if Kathryn was not in. Financial Aid was really great; even when I applying. My dad called 8,000 times; probably everyone remembers him... Every question was answered; the help is there if you need it.