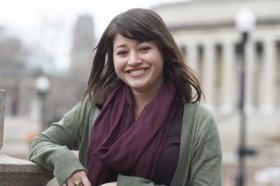 In deciding which colleges to apply to/attend, how important was financial aid and how did it play a role in your decision-making process?
Initially my family and I thought I shouldn't apply to universities with high tuition costs, but then we decided to apply where I wanted to go, and then figure the money out once it all happened. Surprisingly it was cheaper to come to Columbia than it was to stay at home at a state school.
What was your reaction to Columbia's Financial Aid Initiative (no Parent Contribution for families with $60,000 or less in total calculated annual income, with typical assets)?
It's really nice to know that my mom does not have to put aside money every month or every year to pay for my schooling. I don't want to feel like I'm making my mom miss out on something for herself because she has to pay for my education.
What advice about financial aid do you wish someone had given you/your family when you were in high school?
Definitely look for scholarships: local, company-based, and the larger national scholarships. I received one from Ronald McDonald House Charities,
it was just an essay and you can reuse your college essay: talk about yourself, your volunteer work, or an experience that changed you. They're all about the same thing: who you are.
The whole new Financial Aid initiative is really appealing but it's also very unique because none of the California schools (even private colleges) had this kind of funding for the students. It makes you feel like even if you're not from a certain demographic or a certain financial standing, you can actually go here. You can learn with the brightest professors in the world.
Luckily with Columbia Financial Aid things like school and your dorm and meal plan are covered under that umbrella. It's really helpful to know that certain things are covered; just one less thing to worry about!
Tell us about your experiences with the Columbia financial aid staff.
We get along really well, and Marjie's very easy to talk to. Every time I come in about FA questions, we end up talking about a bunch of other things before we get to the money questions. She's really nice and I like talking with her. You don't really think that your FA advisor will be someone you'll click with or talk about anything outside the FA realm. So it's been a really positive experience. She's the best!
What makes a Columbia education valuable to you?
At Columbia, the professors know so much and care so deeply. They read on their own, have gone to those countries, and they are honestly so interested in this subject and want to look at it from a critical point of view, and want others to look critically too.