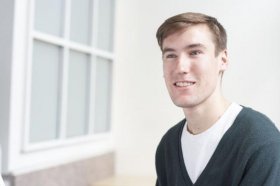 In deciding which colleges to apply to/attend, how important was financial aid and how did it play a role in your decision-making process?
So I knew an Ivy League education would provide me with a lot of aid. I researched Columbia specifically to learn more about its programs. If your family made under $60k then you pretty much had the Parent Contribution waived. That hugely affected my decision…. and Columbia really did cover everything.
I wanted to have my own life. Financial Aid enables me to do that. It enabled me to take control of my own life and pursue my own goals. Knowing that I don't have $52,500 in loans to pay back each year, I'm able to pursue a more fun education. All parents have their own worries, and the fact that I can be here without my parents worrying about it relieves a lot of stress.
What advice about financial aid do you wish someone had given you/your family when you were in high school?
Applicants need to know that if a school accepts you, they want you. They will do whatever they can to make sure you can come there. Columbia has provided me with over and above what I needed.
What makes a Columbia education valuable to you?
I feel like every person here is exceptional, which leads to exceptional things. When I think about people who will change world, I think the people here will be making those changes.
Tell us about your living expenses as a college student in New York City.
I love the Columbia Arts Initiative. I've seen so many shows for free: Hair, a taping of Letterman, and Met and MoMA (Museum of Modern Art) movies. I have not paid for a movie since I've been here. So many things to take advantage of. Even outside of Columbia, the city offers free stuff in general. Not only in Manhattan, but the entire city. You just need to do a bit of research. New York is the most diverse city in world--there's going to be something for everyone. And Columbia University reflects that diversity—people here couldn't have been more different. And I think that this diversity, these different backgrounds and personal experiences, is largely because of financial aid which allows everyone to apply and come here.